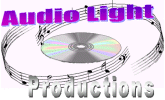 Business Owners:
Business owners are you using your advertising dollars to the best of their ability? If you chose to go with magazine ads, newspaper, television or any other medium besides radio, you're losing money and a large percent of potential customers. An average adult listens to about 3 hours of radio a day and with so many in the work force and on the run, radio reaches them almost exclusively. Since most people commute to and from work in their cars, radio has proven to be the most effective and successful way for businesses to advertise. Over 85% of males and almost 80% females listen to the radio in those crucial hours before and after work. Since 1984, radio-advertising costs have increased the least out of all other mediums, so with numbers like that, how could you go wrong?
Let Audio Light Productions take care of all audio production needs. We'll produce commercials for your business to advertise in radio on local or national broadcasts. Do you have clients on hold? What are they hearing? How many times have you been put on hold and heard absolutely nothing? Most people will not hold for more than 90 seconds if there is just silence. If you have music and a pleasant representative assuring your client that someone will be with them momentarily, they're more likely to stay on hold longer. Maximize your advertising potential with a phone on-hold system from Audio Light Productions. ALP also does industrial narration such as instructional audiotapes, CD's, or audio tracks for video, and can help your business with training and presentation sound tracks. We'll also produce books on tape, as well as a variety of other applications.
Compare our prices with other audio production companies and we think you'll agree that Audio Light Productions can meet your needs and keep your costs down. Call today, (386) 776-1186, for a no-obligation consultation and let us create solutions for your business.

Go back to the Home Page
Copyright © 2000; Audio Light Productions, Inc.